Broco Prime Cut : Ultrathermic cutting, piercing and chamfering
PRIME CUT is an Ultrathermic cutting system operating at 10 000°F (5538°C).
---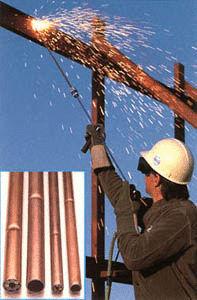 The extension allows you to reach places that are difficult to access…
This extremely high temperature avoids the often time-consuming preheating of the surface.
This advantageous system leaves no carbon residue, so there is no need to grind chamfered or cut edges.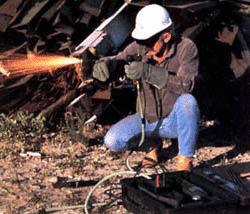 Due to the unique combustion effect of the ultrathermic rods, the Prime Cut system allows piercing, cutting and chamfering of almost any ferrous or non-ferrous material including cast iron, stainless steel, mild or alloy steel, concrete, granite, nickel, titanium and aluminum. Downtime of expensive heavy equipment is greatly reduced. Ultrathermic electrodes burn in any environment, even underwater or in mud. This unique performance feature gives operators a substantial advantage in adverse working conditions.
---
BENEFITS
The PRIME CUT system is the safest way to cut and pierce because it only consists of an oxygen cylinder with regulators, a 12 volt battery, a torch and ultrathermic rods.
Powerful performance
Easy to operate and safe system
No preheating required
Simply initiated with a 6, 12 or 24 volt battery
Rods can be bent for out-of-position repairs Built-in flashback arrestor in the torch for maximum protection
4 diameters (3/16", 1/4", 3/8", 1/2")
4 lengths (18", 36", 48" and 60") of ultrathermic rods available
No acetylene or other gas required except oxygen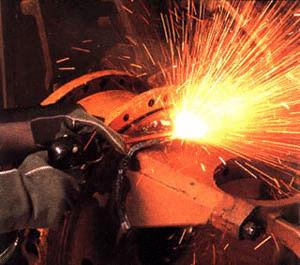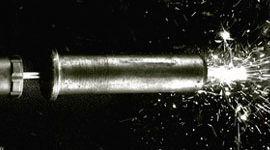 The PRIME CUT system also produces less noise, smoke and harmful gases than other low pressure cutting systems.
---
INDUSTRIAL APPLICATIONS
When time is of the essence, PRIME CUT is the professional's choice for cutting, piercing and chamfering.
Ideal for piercing pins to loosen them
Heavy equipment
Building maintenance
Welding shops
Municipalities
Airports
Asphalt plants
Demolition
Emergency services
Railroads
Road system
Quarries
Construction
Foundries
Scrap yards, junkyards
Marine construction
Chamfering of welds and cracks
etc.