Broco: Underwater Welding and Cutting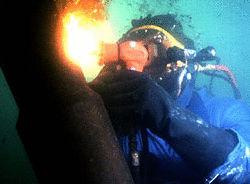 CUTTING
Underwater Ultrathermic Cutting System: BR-22
The ultrathermic underwater cutting system is the fastest, most efficient and most economical way to complete all your underwater cutting, piercing and chamfering applications for a wide range of ferrous and non-ferrous metals. The BR-22 cutting handle was developed to reduce fatigue in the diver's forearm and ensure maximum safety. In addition, the handle can also be used as an electrode holder. While other cutting systems require up to 500 amps, our ultrathermic cutting system requires only a maximum of 150 amps, oxygen and a 12 or 24 volt car or boat battery to prime the ultrathermic cutting electrodes.
Patented in 1978, the BROCO® Underwater Ultrathermic Cutting System has been developed since 1975 by people who know the needs and requirements of underwater work.
Since then, BROCO® engineers have been constantly improving torches and electrodes to ensure outstanding performance and maximum safety.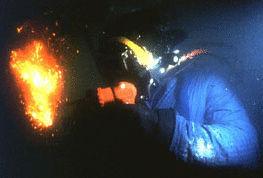 Ultrathermic rods underwater produce temperatures in excess of 5538° C (10,000° F), enough to pierce or cut through any material including cast iron, stainless steel, bronze, all ferrous and non-ferrous metals, concrete, etc.
Underwater Ultrathermic Cutting rods
Underwater ultrathermic cutting rods operate solely with oxygen and generate 10,000°F (5538°C). The unique burning effect of these electrodes allows them to cut all ferrous and non-ferrous metals, concrete, granite, etc. The electrodes can be bent at 90 degrees for hard to reach areas and are very safe. They are available in 6,3 mm (1/4'') and 9,5 mm (3/8'') diameters.
This extreme temperature allows time and productivity savings, making it more economical than competing systems.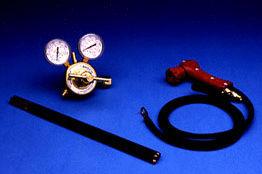 The BROCO® Underwater kit consists of a BR-22 torch, a HVR-4401 (on request only) regulator, and ultrathermic rods for underwater cutting.
This system offers speed and efficiency for all cutting, piercing and chamfering.

It is for these reasons that this cutting system is the most used in the marine and offshore field.
Welding
The standard for underwater welding: "SofTouch" electrodes
The ease of welding achieved with the BROCO® Underwater System and the introduction of "SofTouch" electrodes represent an unparalleled technological advance for underwater welding.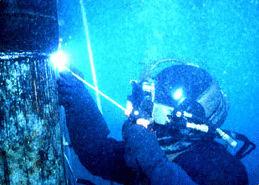 With a minimum of training and practice, even the most inexperienced welders can perform welding jobs with ease.
Underwater Coated Electrodes : SofTouch
Softouch underwater welding electrodes are top of the line mild steel or stainless steel electrodes, all positions, designed to surpass all specifications required in the underwater welding field (X-ray quality, high mechanical characteristics, etc.). The electrodes are easy to prime, easy to weld and easy to clean.
The secret of these "SofTouch" electrodes lies in the coating specially designed to obtain a waterproof seal. Our manufacturing secret is your guarantee of quality for all your underwater work.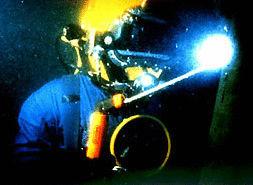 "SoftTouch" electrodes are available in several diameters, for mild steels, stainless steels and nickel alloys.
If your welding job requires certified quality with a minimum of preparation and set-up, consider SofTouch electrodes. Since 1989, SoftTouch electrodes have been the standard for maintenance and repair in the offshore and marine environment. The underwater electrode holder for underwater welding is the BR-20.
For economical underwater welding: "EasyTouch" electrodes
Underwater Coated Welding Electrodes : Easytouch
Easytouch underwater welding electrodes are economical, all position mild steel electrodes designed to meet all required specifications. The electrodes are easy to prime, easy to weld and easy to clean. The ideal choice for anodes or non-structural underwater repairs.
For most repairs where certification and qualification of the diver-welder is not required, BROCO® Underwater has used its know-how and experience to develop a new "EasyTouch" electrode.
This product is the best choice combining economy and quality. The "EasyTouch" electrodes can be used in any position and offer a high deposition rate.